Helping People Manage Conflict and Resolve Disputes Without Litigation
Larry Maxwell's legal career spans over six decades. From 1962 to 2002, he had a trial and appellate practice in state and federal courts. His forty years of litigation experience were exciting and rewarding. However, over the years, he has realized that in most situations, litigation should be the last choice for resolving disputes after other alternative methods have been tried without success.
Beginning in 1985, he expanded his practice to serving as a third-party neutral and counseling clients using Alternative Dispute Resolution (ADR) processes, which can be tailored to a client's needs in the context of the unique characteristics of their dispute.
Crafting Creative Solutions to Meet the Client's Needs
Conflicts occur every day among individuals, families, businesses, and organizations. Larry's method of working with clients to manage conflict and resolve disputes is very straightforward. He listens to your situation, helps you explore options, and assists you in determining the form of dispute resolution procedure that is most appropriate for resolving your dispute. He gives practical legal advice based on knowledge, wisdom, and years of experience.
Most disputes can be resolved without litigation if the parties are willing to be truthful, be responsible for their acts, and proceed honestly and in good faith to seek a fair resolution. However, if you decide that litigation is your best option, Larry will provide you with the names of experienced trial counsel he has learned to respect over the years.
Dispute Settlement Counsel – ADR Professional
Larry has over thirty years of experience in helping clients resolve disputes using various tools in the ADR toolbox. He has authored articles on mediation, collaborative law, the Uniform Collaborative Law Act, and legal ethics and is a guest lecturer at seminars and law schools on ADR subjects. He is widely recognized as an ADR professional, receiving appropriate recognitions and certifications.
Civic, Community, and Church Involvement
Larry has been actively involved in civil, community, and church activities throughout his career. He has provided pro bono legal services through the Dallas Volunteer Attorney Program for many years. In his community, he is a trained Volunteer in Patrol for the Dallas Police Department. In years past, he has served on the Board of the Texas Higher Education Authority of the City of University Park, Youth for Tomorrow, and the SMU Mustang Club.
Larry is an active member of St. Michael and All Angels Episcopal Church in Dallas, and over the years has served in various ministries of the Episcopal Diocese of Dallas. He is a former member of the Executive Council of the Episcopal Diocese of Dallas. For many years, he has been active in the Dallas Assembly of the Brotherhood of St. Andrew.
For over  25 years, with the Dallas Bar Association Home Project and the Habitat Ministry of the Episcopal Diocese of Dallas, he worked with Dallas Area Habitat for Humanity to build a new home every Fall for purchase by deserving low-income families in Dallas.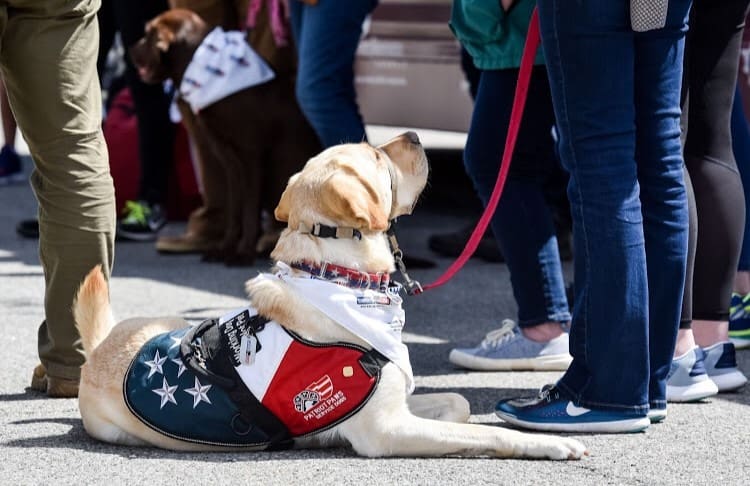 Since 2011, Larry  has raise funds for Patriot PAWS Service Dogs. This non-profit organization trains and provides service dogs of the highest quality at no cost to disabled American Veterans and others with mobile disabilities and PTS to help restore their physical and emotional independence. Larry supports the Annual Patriot PAWS Charity Golf tournament, sponsored by the Dallas Assembly of the Brotherhood of St. Andrew.
Recognitions and Certifications
Best Lawyers in America
Alternative Dispute Resolution
Mediation
Arbitration
Collaborative Law: Civil
AV Peer Review Rated Preeminent, Martindale-Hubbell
Pepperdine University School of Law
Straus Institute for Dispute Resolution Masters' Forum Participant
Who's Who in Texas Alternative Dispute Resolution
Commemorating the 20th Anniversary of the Texas Alternative Dispute Procedures Act
College of the State Bar of Texas
Association of Attorney-Mediators
Texas Board of Legal Specialization
Board Certified: Civil Trial Law (1978-2014)
Guest Lecturing
Guest Lecturer on Mediation, Collaborative Law, the Uniform Collaborative Law Act, and Legal Ethics at Seminars and Courses sponsored by:
Southern Methodist University Dedman School of Law
Texas A & M University School of Law
South Texas College of Law Houston
American Bar Association
United Kingdom ADR Group
International Academy of Collaborative Professionals
Global Collaborative Law Council
State Bar of Texas
Dallas Bar Association
Association of Attorney-Mediators
Texas Association of Mediators
Texas Mediator Credentialing Association
Publications
Book Chapters:
ADR Handbook, Collaborative Law: An Idea Whose Time Has Come, ADR Section of the State Bar of Texas (2018) with Sherrie R. Abney
Collaborative Law: Start to Finish, Expanding the Collaborative Process Beyond Family Law, State Bar of Texas (2014) with Harry L. Munsinger
Articles and Papers:
The Proposed Texas Uniform Collaborative Law Act; An Executive Summary, Alternative Resolutions ADR Section of the State Bar of Texas (Summer 2016)
Update of 2009 Summary of Ethics Rules Governing Collaborative Practice, ABA, Section of Dispute Resolution, Collaborative Law Committee (2014)
An Update – Uniform Collaborative Law Act / Rules – Texas Uniform Collaborative Law Act, Alternative Resolutions, ADR Section State Bar of Texas (Winter 2011)
Summary of Ethics Rules Governing Collaborative Practice, ABA Section of Dispute Resolution, Collaborative Law Committee, Ethics Subcommittee (2009)
The Uniform Collaborative Law Act: It's Here, Alternative Resolutions, ADR Section of the State Bar of Texas (Fall 2009)
Why a Uniform Collaborative Law Act? New York Dispute Resolution Lawyer, Vol. 2, No. 1 (2009) with Norman Solovay
 Collaborative Law: It's Here, and the ConsensusDocs Are, Too, Construction Law Journal, State Bar of Texas, with William B. Short, Jr.  (Winter 2008)
The Development of Collaborative Law, Alternative Resolutions, ADR Section of the State Bar of Texas (Fall/Summer 2007)
The Development of Ethical Guidelines and Mediator Credentialing in Texas, Alternative Resolutions ADR Section of the State Bar of Texas ( 2007)